Reading Time:
4
minutes
It's no secret that VR and VR companies are currently all the rage. As is, the AR (augmented reality), VR (virtual reality), and MR (mixed reality) market is more than likely to reach a value of at least triple its worth within the next few years. None of this comes as a surprise since VR will be the future of entertainment. These bold claims have gotten many people riled up. Any knowledgeable investor will, or at the very least should be up-to-date with breaking stock market news. What are the breaking news? Invest in VR.
VR What?
Although the odds of you not having heard the term VR thrown around are astronomically minuscule, we're going to play it safe (as most investors often do) and give you a brief rundown of why VR is the current fad. In itself, the idea behind VR is easy to grasp. VR's primary purpose is to create a truly unique sensory experience. A sensory experience can include many variables, but currently, the focus is on sight, touch, and hearing. Due to incredibly high demand, the industry itself is growing at a phenomenal pace. This incredible growth is spurred by the rapid development of the VR gaming industry.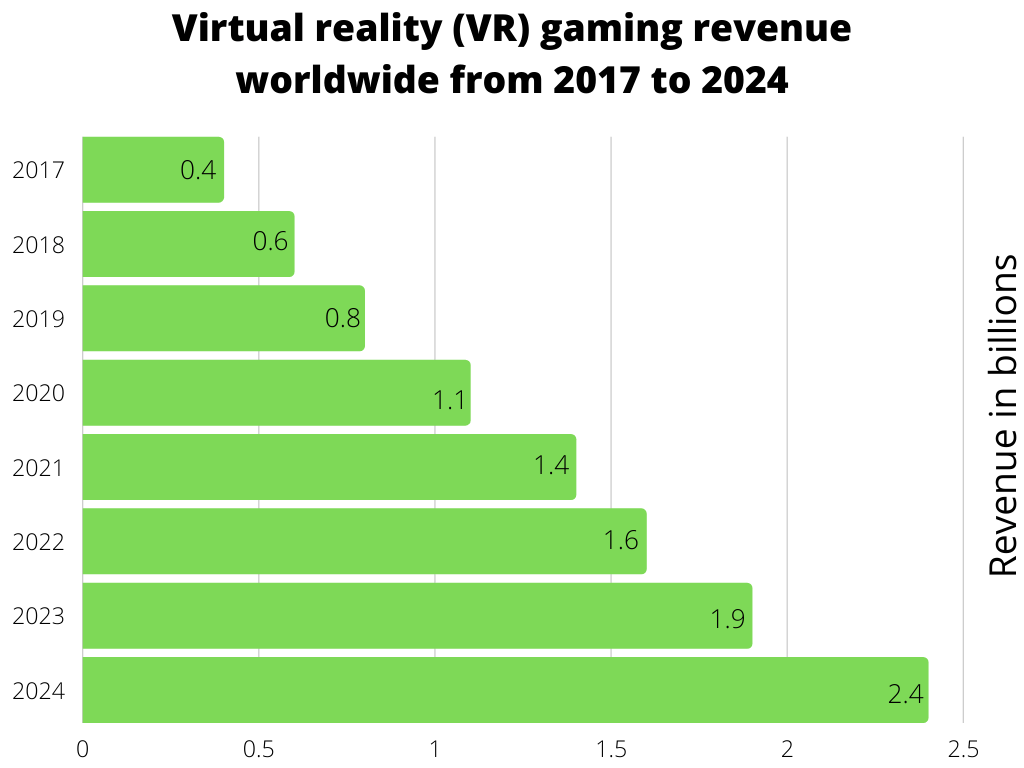 Currently, there's no need to go in-depth when it comes to other available VR products. There's only one thing you need to know to continue reading – VR is in high demand.
The Kings of VR
So, do you want to invest in VR? Well, nothing's stopping you. Currently, the best way to get your share of the VR market is to invest in virtual reality stocks. Regardless of whether you choose to invest in VR, the economic benefits are unavoidable. The only thing you can affect is whether you will experience those benefits firsthand. For those who are willing to reap what they sow, here's our list of the top 5 VR companies you should invest in:
Facebook
No current credible VR company stock list would dare to skip Facebook, as it is the sole reason why metaverse stocks are as relevant as they are today. Firstly, Facebook branched out into the VR technology scene when it acquired Oculus in 2014. Since it acquired the company, Facebook has focused on developing virtual reality headsets and unique complementary software.
From that point on, Facebook-related VR products have received overwhelmingly positive reviews. What's more, consumers have praised them for offering the most affordable option when it comes to getting into VR. It's no wonder that the company has continued to invest fervently in metaverse-related stock. Facebook is sure that virtual reality will be a big hit, and it's doing its fair share in making sure that it stays that way.
No person that plans to invest in VR should skip Facebook. It is currently pioneering metaverse stock, and we are sure that it will continue to do so in the future.
Microsoft
Microsoft is a tech giant which aims to produce various computer software and electronics. Chances are, you are currently using their top-of-the-line operating system. But the company is famous for more than its OS. Microsoft also owns the Xbox gaming console, which puts them in an excellent position to judge VR's impact on the gaming community.
Microsoft has already placed its bet on the idea that VR hardware will become commonplace. The tech giant has already signed a lucrative contract with the U.S. Army. The Army expects Microsoft to aid the development of their HoloLens device, which will be used to train soldiers using state-of-the-art VR technology. On another note, data has shown that consumers are starting to demand devices that are smaller and more aesthetic. Luckily, Microsoft has a lot of experience creating user-friendly products.
For any investors looking to invest in a company that will surely go beyond simply gaming and entertainment, Microsoft is the choice for you. No VR stocks portfolio should carelessly overlook this company.
Nvidia
Nvidia is best known for its graphics processing units (GPUs). GPUs are the powerhouse of VR applications. If anything, most VR units are heavily dependent on Nvidia's services. Therefore, as long as VR remains relevant, Nvidia won't be too far behind.
To benefit from virtual reality stocks, all it takes is for a person to know that Nvidia will make sure that VR technology remains heavily reliant on their products. On a side note, it's worth mentioning that Nvidia is offering a revolutionary 3D platform for virtual collaboration. The platform's existence shows that Nvidia is looking to become more than a provider for VR power components.
Alphabet
Most people probably haven't heard of this company. However, everyone has heard of the name Google. For the sake of simplicity, it's best to see Alphabet and Google as a single entity.
Some of you might ask what Google has to do with VR technology. Google has a massive reach and is always looking for an opportunity to make it even more massive. VR will become the next big thing, and Google is aware of this.
This company will not miss its opportunity to take part in the VR market, and neither should anyone who's looking to invest in VR.
Sony
Sony did not miss out on the opportunity to create a VR headset that is usable with its popular PS consoles. The company aims to provide a truly unique gaming experience by using VR.
Sony remains an appealing choice for those looking to invest in VR company stock as it will make use of the PlayStation 5's novel design and sheer power.
Conclusion
That concludes the list of the top 5 virtual reality stocks to buy in 2022. We believe that your portfolio will not be complete without companies such as Facebook, Microsoft, and Nvidia. The VR market is shaped by Facebook's metaverse, Microsoft's experience, and Nvidia's cutting-edge hardware. Having in mind how quickly VR technology has swept the market, now is the best time to invest in virtual reality stock.